England's Ashes Victory

The Ashes at Wikipedia
The commemorative Miniature Sheet features two 1st Class and two 68p stamps. The sheet also contains the ECB (England & Wales Cricket Board) logo (three lions and crown) and the line The Ashes - England Winners 2005.
2005
(October 6 2005)
Commemorative
Designed by Why Not Associates
Printed by Cartor Security Print
Print Process Lithography
Perforations 14.5 x 14
Stamps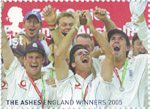 England celebrate the Ashes victory.
1st
Front row, left to right: Andrew Strauss, Michael Vaughan and Kevin Pieterson. Middle row, left to right: Ian Bell (behind Andrew Strauss), Matthew Hoggard, coach Phil Neale and Steve Harmison. Back row, left to right: physiotherapist Kirk Russell and physiologist Nigel Stockhill.