Post & Go - Birds of Britain II
Royal Mail referred to the results of the RSPB's Big Garden Birdwatch to select six more of the most commonly seen species from the top 20, complementing the first set of stamps issued in September 2010.
Birds of Britain is the first series of stamps issued by Post & Go terminals, a self service facility which allows customers to weigh their letters and packets, and pay for and print postage labels.
Initially these Post & Go stamps are available from Post & Go terminals in 30 branches – see Notes to Editors for full list - with subsequent sets being available from all Post & Go terminals.
The first Post & Go machine was installed at The Galleries Post Office in Bristol in 2007 since then over 170 terminals have been installed in around 100 branches.
All the birds in the series have been illustrated by wildlife artist and ornithologist, Robert Gillmor.
2011
(January 24 2011)
Designed by Kate Stephens
Size 56mm (h) x 25mm (v)
Printed by Walsall Security Printers
Print Process Gravure
Perforations Kiss die-cut simulated perforations
Gum Self Adhesive
Post & Go - Birds of Britain (2)
, Vol.48 No.5 (Issue Details)
Stamps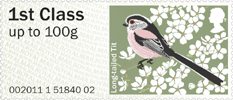 Long-tailed Tit
1st
Image preview by Royal Mail
Aegithalos caudatus
The long-tailed tit is easily recognisable with its distinctive colouring, a tail that is bigger than its body, and undulating flight. Gregarious and noisy, long-tailed tits are most usually noticed in small, excitable flocks of about 20 birds.